UPDATE! LAST RESTOCK SOLD OUT IN JUST 2 HOURS
OUR MISSION
No more sensitive teeth! That's why IviSmile is still the #1 seller with over 550,000+ happy customers
Our Teeth Whitening Kit has been designed to deliver results in 6 days. It is formulated with active whitening ingredient that whitens and brightens your teeth without any pain or sensitivity.
BENEFITS
Proven lasting results
Enamel-safe formula only sold my IviSmile
Professional results for a fraction of the cost
Whitens even the most stained teeth up to 8 shades whiter
Whiter and more confident smile delivered from the comfort of your own home
JUST 5 EASY STEPS!
Give your teeth a good brush so you're ready to whiten.
Attach the LED light to the mouth tray.
Apply gel to the top and bottom sides of the mouth tray.
Pop it in, hit the button, and whiten for 15 minutes.
Spit and rinse after use, and repeat for 6 applications.
"Whitens teeth at-home better and faster than the dentist"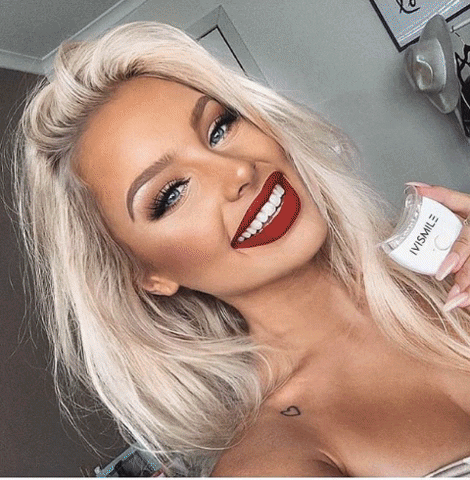 Great product
Got it during their last restock and I can say that this brand is the real deal. The package came well packaged in 3 days. Their customer service is great and most importantly their whitening products work like no other. Their ivismile whitening kit whitened my teeth 4 shades whiter in just one week. A great brand deserves 5 stars from me!
Worth every penny!
I bought this kit during their last restock just because my friend reccomanded it to me. The package arrived in just 3 days which is a huge plus. After using the kit for 2 days I could already see a difference in my teeth. They looked whiter and less stained. I continued to use the kit for the remaining 4 days and I experienced no sensitivity on my teeth during the whole treatment. The final results actually surprised me. My teeth have never looked so white before. Definitely will recommend it to more people. Thanks :)
Coffee Lover Finds Whiter Smile
Im a coffee lover and my teeth were in need of a whitening, wow did i find the right product! IviSmile did not disappoint. No sensitivity and I saw a difference within days! Thanks IviSmile ;)
I recommend this product
My friend had told me about this brand and at first I was skeptical but after seeing her before and after picture I quickly went and ordered one for myself. After 6 days I couldn't believe how much whiter my teeth have gotten and I had zero problems with sensitivity. I'm glad I gave this product a chance. Worth the 5-star reviews!
Bought this feeling very skeptical because of previous bad experience with Facebook ads. But this comapmy is actually legit. I got my order in just 2 days like they said and the thing really worked like they claimed. They also stayed that way for quite a while. I Love it!!! Best money I have spent on an iffy product. Finally something that really lives up to its claims!
This stuff actually works. I could already see a difference after 2 days. Best thing is that my teeth don't hurt at all. definitely recommend
Was very surprised with the results in just a couple of days! This product has been a life changer. What a difference it has made on my teeth and bonus points for not making them sensitive! Would definitely recommend this product! Here are the before and after pictures I took.
I love this product and this company as a whole. This product works exactly as its described. There is no bs. My teeth got so white after just 6 days, it's really unbelievable. I also love their mission and how they help donate to kids who can't afford oral care treatment. Honestly a great company and great shipping times. Will reorder more for the family :)
I bought this product hoping that it would help me with my coffee-stained teeth and wow this has turned my teeth so white. I should have taken a before picture to compare but its really amazing to have white teeth again. This worked just as good as the expensive doctor whitening process just for way cheaper. Thank you Ivismile.